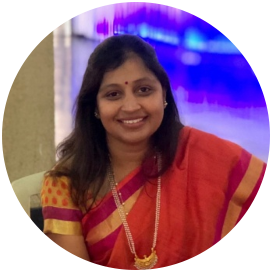 Megha Pusalkar runs a health care consultancy – Solutions Unlimited in Pune, Maharashtra and is Director at JCSS-Novus.
Trained at the Nuffield Centre for International Health and Development, University of Leeds, UK, Megha has a Masters of Hospital Administration degree with a focus on developing countries.
For the last 15 years, Megha has been involved in developing quality assurance systems that serve the intrinsic objectives of the organisation and help health care managers enhance the outcomes of their services. Training has been another major focus area using various techniques such as the Adult Learning model, Work Integrated Learning and Continuous Professional Development. One of the most heartening achievements has been the training of Health Care Assistants (HCA) where young individuals have been transformed into confident and skilled front line health care staff, partnering with nurses to deliver safer care.
From starting the first Quality Assurance department in a hospital in Pune to developing, structuring and running the MHA program at the Bharati Vidyapeeth University, Megha has been part of many initiatives and academic developments in the field of Quality and Safety in Patient Care.
An adherent believer of improvements through capacity building, Megha has always focused on empowering and developing individuals to understand and realise the goals of safety and quality. Over the years, Megha has closely studied and monitored the role and value of the concept of Strategic Human Resource Development and its operational benefits to the hospital. Patient care and Patient Safety is so closely linked to the skills and competencies of individual health care workers, that unless a robust HR system is developed, the goals of
safety and quality cannot be achieved.
Today, Megha consults with hospitals, helping them create policy and strategy to implement systems and sustain through the challenges of providing safer care with higher standards of quality and service delivery.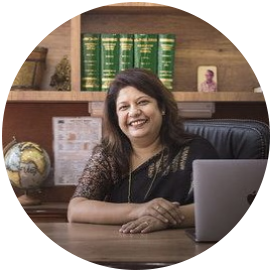 Radhika Bali, a law graduate of the year 2000, started her law firm in 2009. As a young graduate she had gained a decade long experience working with credible law firms and eventually ventured out on her own to explore areas that interested her and were increasingly important to running and growing businesses. Furthering her practice she realized that her clients appreciated the intensive research and ethical guidance that she offered along with cost effectiveness services of her firm. Radhika has worked with many young business leaders helping them shape their strategies and growth plans in a legally acceptable framework. Over the years her clientele has grown and she now works with business houses and startup ventures across the country and overseas curating their expansion, investment and diversification plans.
With a strong focus on ethical service provision, Radhika had the opportunity to work with health care organisations and found a new and exciting role as advisor and consultant. Over the last decade Radhika has mentored several hospital managements teams to understand and act in accordance with health care laws and inculcate discipline in routine functioning. She also closely works with human resource teams to help them formulate policies that provide a stronger structure to the working of health care organisations. As prevention is always prescribed better than cure, Radhika works with health care workers, managers and leaders to help them understand the importance of transparency and completeness that can help organisations avoid litigations and allegations of malpractice. Radhika also works with clinicians advising them to improve their skills in counselling patients and practicing principles of disclosure as and when necessary.
In a rapidly evolving scenario where users of health care are increasingly aware of their rights, Radhika consults with organisations to keep them updated of their responsibilities.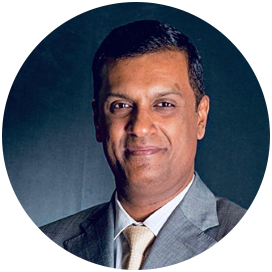 A Chartered Accountant by profession, Srikanth Srinivasan enrolled as a 'Fellow' of the Institute of Chartered Accountants of India in 2005. Srikanth is a founder member of JCSS & Co., a firm of Chartered Accountants as well as a Founder Director of JCSS Consulting Private Limited, a global consulting firm headquartered at Bangalore, India.
Prior to JCSS, Srikanth was associated with S.B. Billimoria & Co, an erstwhile member firm of Ernst & Young, International for over 6 years.
Srikanth's move to an independent career started in 2000 with the setting up of JCSS. Over the years, JCSS has grown to advice industries across a broad spectrum ranging from Construction to Infrastructure, Trading to Manufacturing and Services to Information Technology. Today, JCSS's portfolio of clients range from start-ups to well established Fortune 500 companies.
As a Director, Srikanth oversees the Corporate Advisory, Assurance and Transaction Advisory Functions in JCSS. Through his career spanning 26 years, Srikanth has provided Assurance and Advisory services to various high performing large and medium sized multinational companies in India and abroad.
Srikanth specializes in Exchange Control Regulations and Corporate Laws. He has advised various multinational companies on inbound and outbound investments from India on various aspects such as entity structure, capital structure, funding options and operating structures. Srikanth is extensively involved performing diligence of targets for Mergers and Acquisitions, restructuring pursuits for Foreign Investors in India and Joint Ventures.
Srikanth's experience in the healthcare industry has been broad based.  From helping established players drive incremental growth through acquisitions and joint ventures to helping start-ups navigate the maze of regulatory compliance and capital raising, Srikanth has played the entire field.  When not advising corporates, he's been offering the benefit of his experience to promoters and senior management through lectures and training.  
Srikanth has also directed and driven the success of multiple assurance and advisory engagements while ensuring the team develops a proactive approach in line with industry standards and ensuring a high level of client satisfaction. A keen insight into the everchanging requirements of the management as businesses grow and develop, Srikanth has ensured that all advisory engagements are at the cutting edge of client requirements as well as technology. He has developed strategic alliances with organization leaders, other risk management functions and regulators to effectively assess risk and evaluate key business initiatives and processes.